Key Personnel
Stanley Weinstein, EMBA, ACFRE, is Executive Director of Best Chance and has spent more than 50 years in the nonprofit sector. As a consultant, he has provided services for more than 300 nonprofit organizations nationwide, including numerous social service/behavioral health institutions. From 2010-2018, Stanley was a volunteer mentor at Central New Mexico Correctional Facility, where he taught mindfulness and coping skills. Mr. Weinstein was also trained at Presbyterian Hospital, participating in the Clinical Pastoral Education (CPE) program. Subsequently, he worked as a chaplain at the hospital for 2 years. Mr. Weinstein is the author of two books on nonprofit management and resource development published by John Wiley & Sons.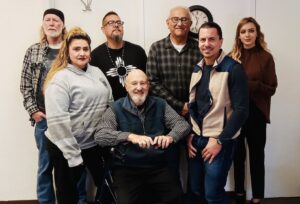 Rory Wolf, Certified Peer Support Worker (CPSW), has been clean and sober for 11 years and serves as Peer Support Worker and Administrative Specialist. He came to Best Chance as an intern from CNM and has been integral in refining the program and maintaining records of the organization. He is a veteran and is familiar with the programs offered at the Veterans Integration Center. He has an Associate degree in human services and a certificate in substance abuse counseling. Rory obtained his CPSW through OPRE in September of 2019.
Gary Mares, Certified Community Health Worker (CCHW), Certified Peer Support Worker (CPSW), was trained as a Peer Educator by Project ECHO during his term of incarceration. He completed the 40 hour training period for Best Chance Peer Support Workers and is enrolled full-time in CNM's Human Services program. He completed his Community Health Worker Certificate from CNM in August 2019 and obtained his CPSW through OPRE in September 2019. A gifted presenter, Gary has represented Best Chance at several conferences and outreach presentations.
Denise Thomas, Peer Support Worker recently received her CPSW. She comes to Best Chance with a reputation for empathy–especially for women who have experienced many hardships in their lives. Denise's Monday afternoon Women's Support Group is a popular feature of the Best Chance schedule. Denise knows our referral network well. Her Peer Support Services for men and women have garnered praise from our diverse client pool.
Joe "JD" Medina, Peer Support Worker is also a Certified Peer Support Worker (CPSW). JD has a strong artistic flare. He encourages his clients to not only find meaningful employment, but also ways of expressing their unique talents. JD has close ties to many other service providers. This allows him to help secure the services that each Best Chance program participant needs to succeed.
Gary Hernandez, Operations Manager/Peer Support Worker (trainee), is the newest member of the Best Chance team. He has a BA in Urban Studies and a MA in Sociology both from Stanford, and a MPH from University of London. His life experience combined with his extraordinary education have molded Gary into one uniquely qualified to help administer the organization. At the same time, he brings a deep sense of empathy while working with program participants. Gary comes to us through the program New Mexico Workforce Connections, funded by a grant from the Workforce Innovation and Opportunity Act (WIOA).
Board of Directors
Jeff Hoppe, M. Div. – Board President – Rev. Hoppe formerly was head of Presbyterian Hospital's Chaplaincy Department. He is currently the Manager of the Clinical Pastoral Education (CPE) program—an interfaith chaplain training program—at Eastern Oklahoma Veterans Administration Health Care Services.
Scott Sibbett, PhD – Board Vice President – Dr. Sibbett headed Intel Corporation's external research programs.
Margaret Broenniman, Attorney – Board Secretary –Ms. Broenniman is Assistant Public Defender for the State of New Mexico.
Daniel Rowan, CPSW – Mr. Rowan is a former Program Director for Best Chance. He is now a full-time employee for Project ECHO and has responsibility for Peer Education in New Mexico prisons.
Clifford Blaugrund – Mr. Blaugrund is an attorney, businessperson, philanthropist and community leader with extensive experience on numerous nonprofit Boards of Directors.
Jacob Tolk, CFA, CRPC,  –  Mr. Tolk is Vice President and a Financial Advisor at the Compass Rose Group at Morgan Stanley. Additionally, Jake is a summa cum laude graduate of New Mexico Tech, and is a published author in the International Journal of Finance and Economics.
Barbara Schwartz, Pd.D., L.P. Dr. Schwartz is a retired psychologist who has returned to Albuquerque after a lifetime dedicated to incarcerated individuals. Dr. Schwartz started and ran sex offender treatment programs for Departments of Corrections in a number of States. She is an author, editor, and presenter of resources and curricula involving treatment of sex offenders.
Alexandria Viszolay is the Curriculum Development Coordinator for the Department of Biochemistry and Molecular Biology at the University of New Mexico and Clinical Research Coordinator for the Emergency Department at Presbyterian Hospital Downtown. Alexandria works in addiction medicine, helping people with opiate use disorders.
Richard McClarkin is an Independent Mediator and Actor. He attended the University of Denver Sturm College of Law and practiced civil and criminal law in the State of New Mexico. Since his retirement in 2006, Mr. McClarkin has had a successful acting career; he is known for his roles in The Astronaut Farmer (2006), In Plain Sight (2008) and Elvis Has Left the Building (2004).
Advisory Board
Mike Alberti, MFA, received his Master of Fine Arts in Creative Writing at the University of Minnesota in May 2016. He has worked as an investigative journalist and is an award-winning writer. Mike taught classes with the Minnesota Prison Writing Workshop (MPWW) since 2014. He also has experience with a mentorship program and support group for the recently released in Minnesota. Alberti received the 2015 Scribe for Human Rights Award from the University of Minnesota.
Larry Cotter, MDiv and a Masters degree in Counseling, has served in a broad variety of comforting and advising roles. Larry has graciously agreed to help with many of the functions of a clinical supervisor while Best Chance seeks to fill this position on a more permanent basis.
Jesse Tatum, LMSW. In addition to Jesse's education in social work, she has experience working for an advertising and public relations firm. Jesse also is a professional flutist and frequent chamber music soloist in Albuquerque and Santa Fe.
Donald Hume, CPSW, is a Supervisor of Peer Support Specialists at Presbyterian Healthcare System. Donald has years of experience as a Peer Mentor. He is considered a pioneer in the field of Peer Support and one of its earliest advocates.
Jaymes Fairfax-Colombo, JD, PhD, is Assistant Professor in University of New Mexico's Department of Psychiatry and Behavioral Sciences and is the Fellowship Director. His clinical interests include forensic mental health assessment, competency restoration, and reentry of both criminal offenders and psychiatric patients.